Electric kettle Ardesto EKL-1319HW
Transparent glass electric kettle with technological platform, touch control, temperature control, LED backlighting and overheating protection. Kettle's capacity is 1.8 l, the platform provides a 360° rotation. The platform, base and handle are made of black polycarbonate and brushed metal. The main part of the kettle is made of durable tempered glass with volume marks — 0.5 l, 1 l, 1.5 l and 1.8 l.

Specifications :
Electric kettle

1,8

1800

Maintenance of temperature

65°C, 75°C, 80°С, 85°С, 90°С, 95°С, 100°С

Disc, hidden

Glass, polycarbonate, metal

White

Yes

Touch

Blue

Button on the handle

Outside

Overheat and boil-dry protection

Yes

220

70

Kettle- 22x24.5x16.3, stand - 18.2x22.2x3.5

Kettle - 1, stand - 0,63

China

12 months

Package dimensions (WxHxD), cm

19x27x25

1.9

0.0128
Blue LED lightning and touch control
For comfortable use there is a convenient handle with an opening button. The touch control panel with a display is located on a stand and is decorated with a pattern. The wire length is 70 cm. There are seven modes of heating and maintaining the water temperature for different types of tea, coffee, milk, and water with honey. The performance of the glass kettle is accompanied by a blue LED lightning.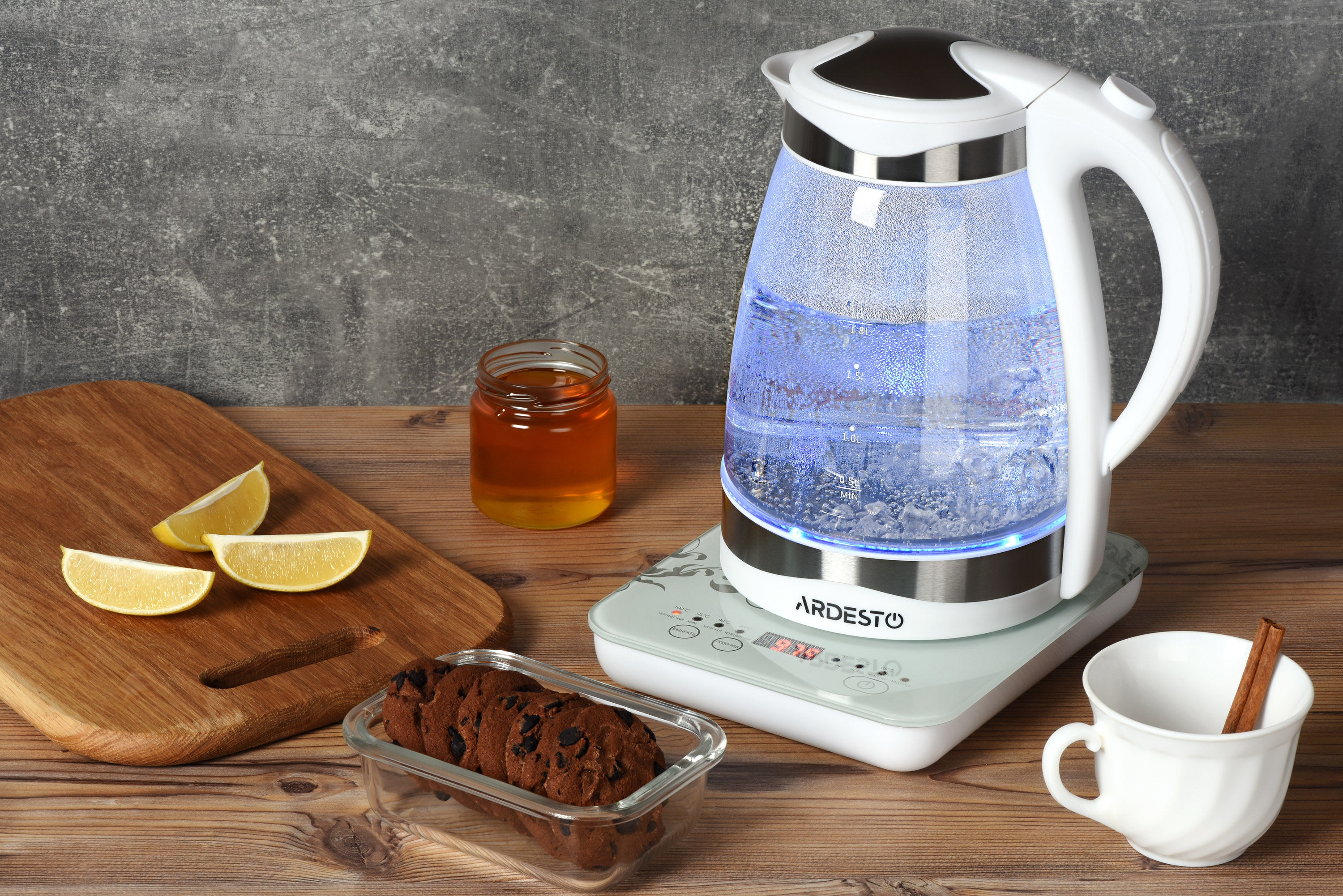 Durable and economical
The heating element is hidden. Its effective location with a power of 1800 W does not overload the grid and allows not only to significantly reduce energy consumption, but also to ensure faster achievement of a given temperature. Due to this, less energy is consumed and the house ecology is maintained. It also provides durable overheating protection and automatic shutdown when there is no water inside.