Slow Juicer Ardesto JEG-1330SL
Masticating juicer for juicing a wide variety of fruits, vegetables, berries and even greens and nuts. Low speed juicing technology provides maximum extraction of nutrients without oxidation, with a minimum of waste and pulp. The increased hole for loading allows you to load entire products into the device, this saves the cooking time. The compact size and thoughtful design provide easy and quick cleaning without unnecessary effort.

* Рекомендована роздрібна ціна
Where to buy
Number of programs
1 (90 rpm)
Material body
Polycarbonate, stainless steel
Color
Black, polished steel
Diameter of loading hole, mm
85
Juice pulp collection
Auto
Pulp container capacity, L
0.6
Juice jug capacity, L
0.6
Screw/grater material
Polycarbonate
Sieve material
Stainless steel
Juice of ingredients with starch
Yes
Protection
Overheat motor protection and safety lock device
Dimensions (WxHxD), cm
15x22x46
Package dimensions (WxHxD), cm
20x30x37
Package volume, m3
0.0222
Useful nutrients and vitamins
Masticating juicing technology allows you to make juice from a wide variety of fruits, vegetables, greens and nuts. You can come up with any combination – apples, citrus fruits, soft fruits with high starch content – bananas, mangoes, solid vegetables – beets, carrots and pumpkin. It is possible to make almond milk from almonds and green fresh will provide you with energy for the whole day.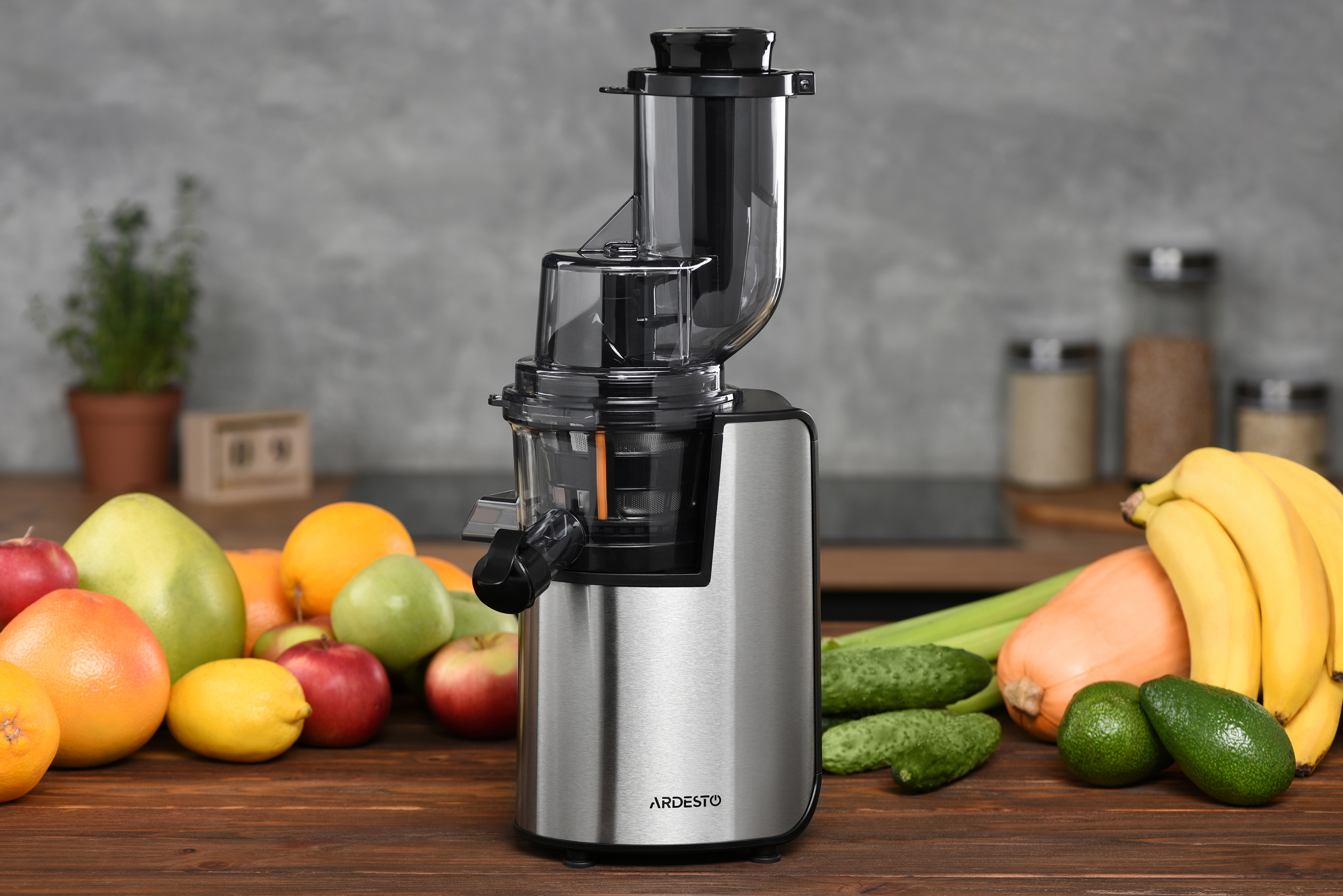 Perfect design
Designed by Italian specialists the Ardesto JEG-1330SL juicer is made of high quality polycarbonate and stainless steel with a polished covering. This combination emphasizes the reliability and elegance of the style that will decorate any interior.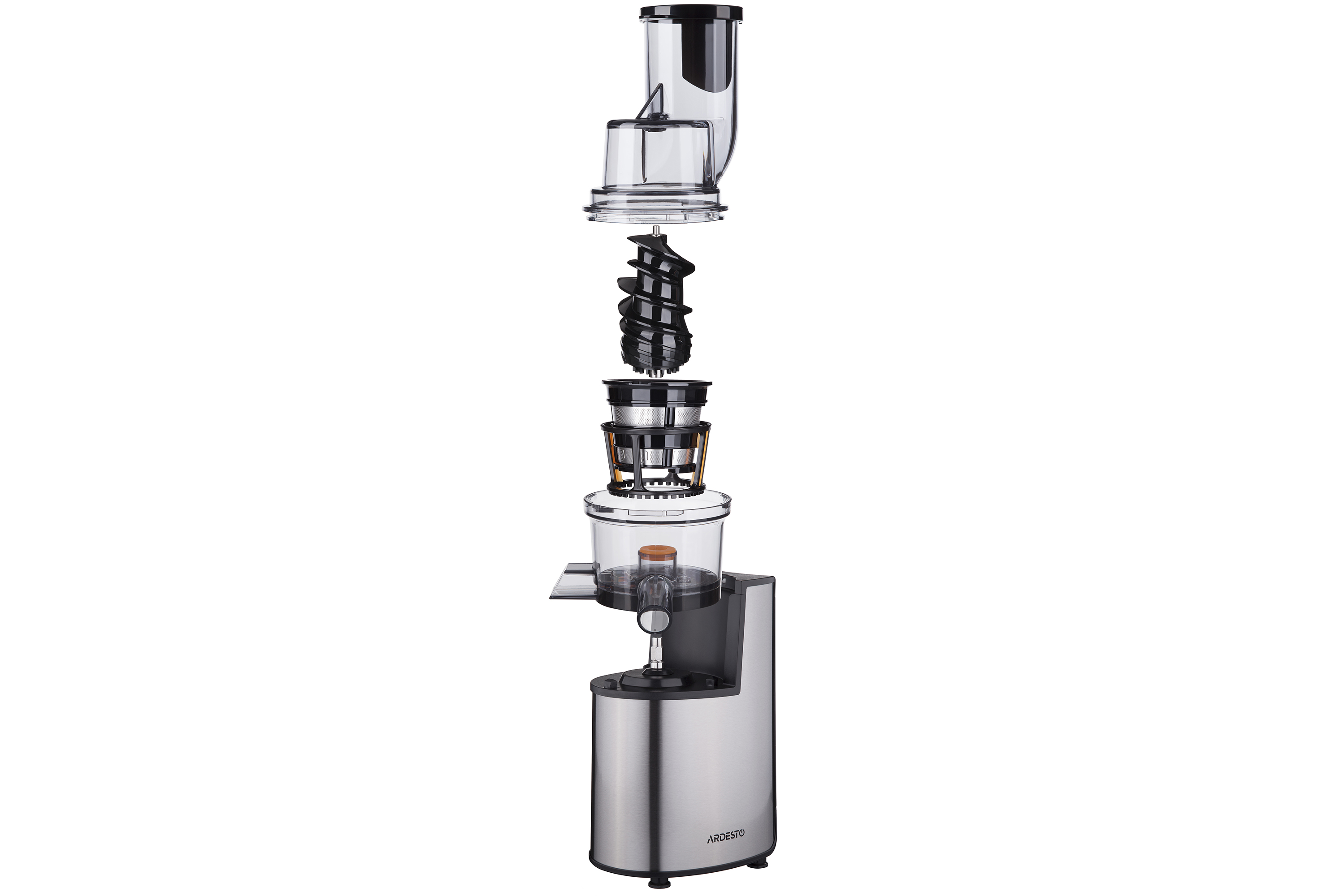 Low speed juicing
The juicer is equipped with an engine with a power of 200 W and protection against overheating. It provides a quiet and high-quality juicing. Due to low speed work (90 revolutions per minute), juice does not have time to oxidize and saves all the vitamins and nutrients. The reverse function provides maximum performance during beverage production.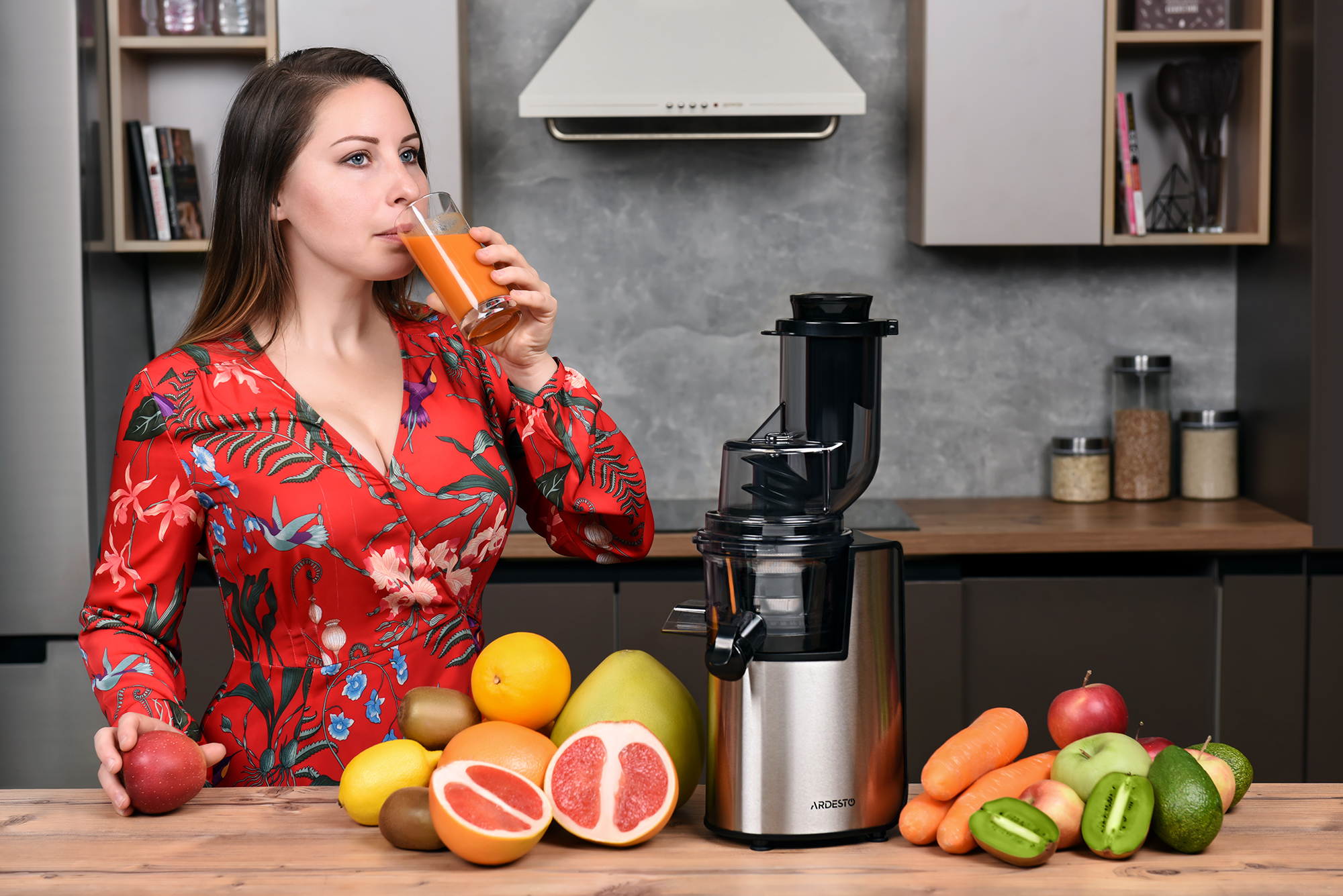 Easy to clean
For time saving the JEG-1330SL juicer has a larger hole for loading and pusher. The main bulb is equipped with special rubber gaskets for design density. The screw and cleaning rim are made of durable polycarbonate, and a sieve is made of high-quality perforated steel. The juice drain is closed with a drop-stop valve. For juice and pulp there are two separate bowls with a volume of 0.6 liters. The juicer and all its parts are easily washed with a rigid brush that comes in the kit.

Safe design
All components are designed for a long lifetime with a high level of load. The safety mechanism provides starting only after a complete assembly of the device. The rubberized non-slip legs of the motor block provide reliable fixing on the table while working.