Stationary irrigator Ardesto OI-R600WTB
The kit consists of a stationary irrigator and an electric toothbrush with ultrasonic cleaning technology and medium stiffness DuPont bristles. Thanks to this kit, you can clean your teeth efficiently and effectively, remove plaque and tartar and prevent their formation, massage the gums and clean the surface of the tongue, keeping the breath fresh.
Specifications :
Stationary + Electric Toothbrush

3

0.2-0.86

10

Pulsation frequency, m/min

1400

600

220 V

IPX4

White

Irrigator, classic brush head - 2 pcs, tongue cleaner, electric toothbrush, electric toothbrush head, adapter, manual with warranty card

China

12 months
Irrigator — the Key to Good Dental Health
Stationary irrigator with gum cleaning and massage functions. It has 10 modes of water pressure in the range of 0.2-0.86 MPa. The pulsation frequency of the irrigator is 1400 times per minute, this is the parameter recommended by dentists. Water resistance class of the device: IPX4 — it provides reliable protection against splashes and continuous sprinkling of moisture. The volume of the water tank is 600 ml, that is enough for at least two full cleaning sessions.
Included with the irrigator are two classic nozzles, that it is easy to completely clean hard-to-reach places of the oral cavity with, that can not be reached by a regular toothbrush. As well as a tongue cleanser, that allows you to effectively clean the surface of the tongue from plaque and harmful bacteria.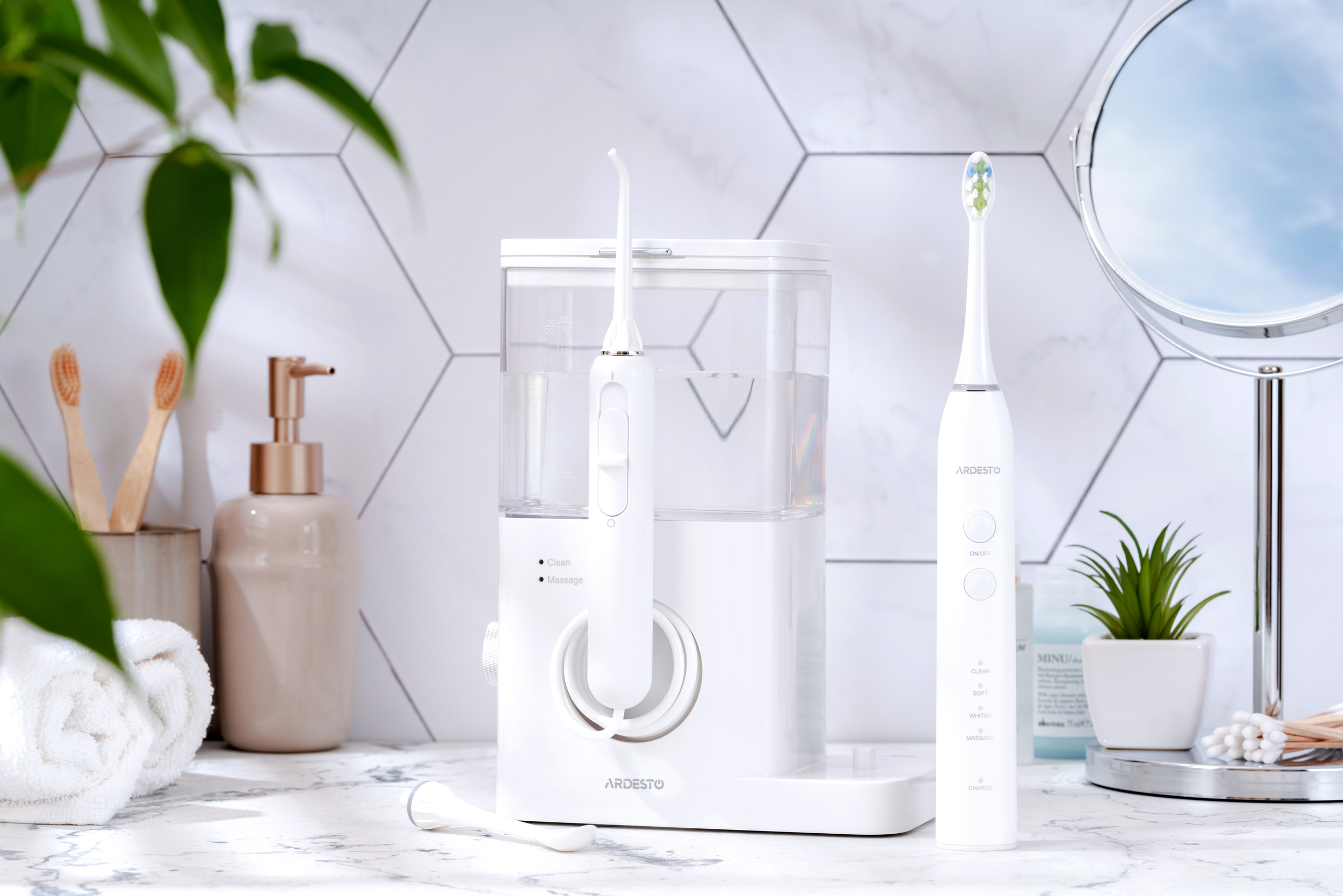 Electric Toothbrush ETB-112W White
Electric toothbrush with medium bristle stiffness provides effective and safe teeth cleaning. Modern ultrasonic cleaning technology with a pulsation frequency of 40000 movements per minute. There are four modes for different needs: standard cleaning, for sensitive teeth, whitening and gum massage. The kit includes two classic nozzles. Protection class IPX7 — protected from moisture even during prolonged immersion in water.
The brush is powered by a built-in Li-Ion battery with a capacity of 650 mAh, that is enough for up to 25 days on a single charge. The brush is charged wirelessly using an induction docking station built into the body of the main unit.